Why Spice Is Winning In Dancehall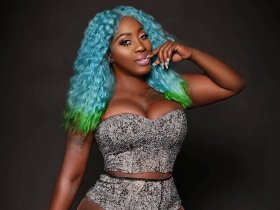 Grace Latoya Hamilton made her debut on the Sting stage in 2000 and, soon after, became the protege to Dancehall/Reggae artiste, Baby Cham. Soon after, Spice received her break with the controversial single 'Rompin' Shop' a collab with fellow Dancehall artiste Vybz Kartel. This single garnered great national and international attention. In Jamaica, it was banned from all broadcasting entities, however, internationally it gained several accomplishments which included but was not limited to debuting on the Billboard Hot R&B and Hip Hop Song Charts.
Throughout 2017, she accomplished a lot, allowing her a space as the metaphorical 'Queen of Dancehall'. One way she has ensured this is her outstanding wardrobe. Her long fur coats, shocking coloured weaves and her brand name outfits have afforded Spice a seat at the table of Dancehall royalty. Evidently displayed by Vogue as they dubbed her the 'Fashion Forward Queen of the Dancehall' after her appearance on the 2016 Reggae Sumfest stage.

"Spice understands that fashion is a crucial element of performance and deftly wields a man-eating alter ego on stage. Her electrifying stage shows are always kicked up a notch by elaborate bodysuits and a rotation of colorful wigs that recall an early Nicki Minaj." says Vogue writer Diedre Dyer. Her Instagram account is populated with images with these same bodysuits and a wide range of brand name items such as Gucci. A popular photo last Christmas was her family photo, which saw her children and herself fully decked in Gucci outfits.


As a female artiste, it is hard to find a space within the male dominated genre and stand resolute amongst the sea of criticism and skepticism. The one person that was able to do this, for years upon years, has been water baptised (permanently) and this has left the space vacant. Amidst self proclaimed King, Beenie Man's, comment surrounding the aforementioned statement, Spice goes in, puts in the work whilst not watching the proverbial face. With hardcore lyrics and musically sound rhythms, she has surely earned the title. Adding to this is the production quality that is put out with every stage performance and music video. Storyline, setting, costuming, choreography are important in grabbing an audience's attention, and gives more points to the artiste. Of late, these elements have been paid a lot of attention during Spice's production process. A prime example was 'Sheet', which started off with Spice and friends washing in a Jamaican backyard set, then moved to the Palisadoes strip.

All in all, Spice has worked assiduously to be in the space she is now in, and needs to continue working. Her album is rumored to be dropping in this year, and in this case, she has to hit as the option to miss is not present.