Teen questions her "path" in life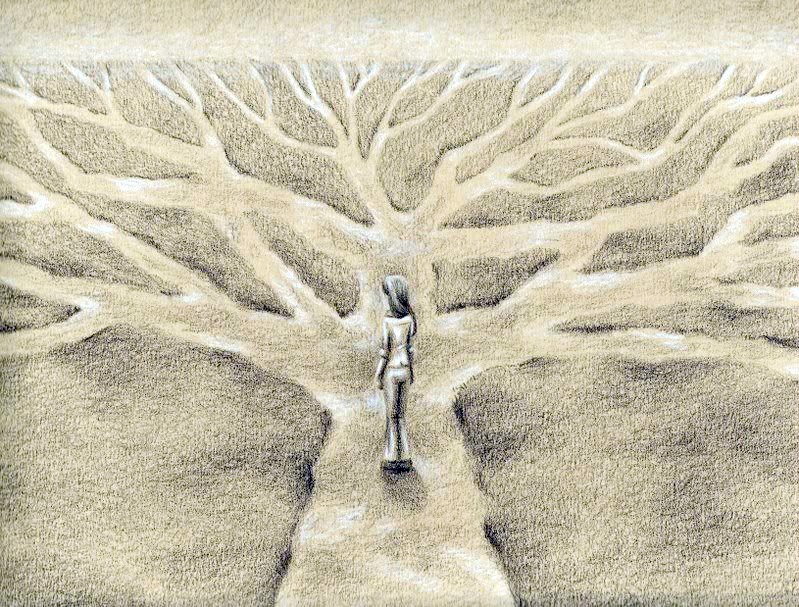 When you were seventeen did you have a clue about what you wanted to do with your life? I only knew that I wanted to go to Cornell University and to have a boyfriend. (I might be messing with the order of my past priorities.) Did I know what I wanted to study in college or what I'd do with my degree once I graduated? Nope. But I don't remember feeling pressure about it either. Not from my mom or any adults. That was a simpler time, after school counselors but before the invention of the word 'stress.'
Many of today's teens (and their parents and counselors) feel differing degrees of anxiety around the whole career-thing. I had a 6th grader tell me the thing he was most stressed out about was getting into medical school. So I wasn't surprised by this recent email from a seventeen year old. Saddened by the unnecessary pressure she's putting on herself, but not surprised.
Teen: I'm about to start my senior year in high school and next year I'll have to choose my college course. I feel pressured every time people ask me my ambitions for the future. I understand they worry about me, but repeating over and over again the same question makes me want to remain a child forever (although I'm 17).
But the worst is when people ask about my grades. They say, "With such high grades you can choose whatever you want."  That really doesn't help, it does not reduce my options.  I know what I don't want but I don't know what I want. I'm also freaked at the idea of having the same job forever. What if one day I wake up and decide that it is not for me?
I think I am afraid to grow up. Now everything seems to be finally ok (not in a perfect way, of course, but having the best friends around me is everything). Maybe I'm a Peter Pan, but just a bit older.
Annie:  I understand what you're saying. I am a bit of a Peter Pan myself. The idea of having to grow up and be stuck in the same job, doing the same thing forever sounds a bit like a prison to me. To avoid that, I freelance and have cobbled a career together using my interests and talents. Every day is totally different. A life without being on anyone's payroll may not suit everyone, but it works for me.
Sometimes kids and teens feel sure of what they want to do in life. You know, like the eight year old who is certain she wants to be a lawyer because her mom is a lawyer. Sometimes that certainty never wavers and the child actually grows up to be a lawyer. More often, though, our ideas about what we want to do when we "grow up" change as we experience life, study different things, and get inspiration and encouragement from people we meet.
You are only seventeen. It is unreasonable to expect a high level of certainty about the kind of future you want. If people keep asking you about it, be polite, but be clear. You might simply say, "I don't know yet what I want to do with my life. I've got plenty of time to decide." And that's the truth.
When you need to choose college courses, choose what interests you at that time. A course is an opportunity to learn new things. It is not a commitment to a long-term future. Please try to stop worrying about it. The future has a way of working itself out without our having to do anything. Keep your mind and heart open and think about what it is that you really enjoy doing. Follow your own interests in addition to school assignments and you'll get clues as to what your path in life might become.

Annie

Source link