Pageant Stylist Chris Adams-Wardrobe advice-Henri's Cloud Nine
Whether you are new to pageants or a seasoned pageant girl, we all have one thing in common, the need to find the perfect pageant wardrobe. What you will need for your pageant depends on the system you are competing in. Some pageants require a modest approach, and others are more glamorous. There are also different areas of competition in every pageant system. No matter which system you are competing in, almost all pageants have an evening gown and interview portion. The third area of competition can vary. In systems like Miss USA, Miss Universe and Miss America, the third portion of the competition is swimsuit, and Miss America also has a fourth portion, talent.   The Miss Teen USA pageant, which is a part of the Miss USA system recently changed from swimsuit to athleisure or athletic wear. Having competed myself on the state level in the Teen USA system both before and after the change from swimsuit to athletic wear, I can tell you that this was a great change for the teens. It's tough enough to get up on stage in front of judges and an audience in a gown, going on stage in a swimsuit was nerve racking. Many other systems have what's called a fun fashion or runway portion and optional competitions for casual wear. With so many great pageant systems and so many wardrobe needs, what's a girl to do? How do you choose? Well luckily for us, there are amazing pageant stylists available to help you choose. Over the next few weeks I am going to be featuring some of my favorite pageant stylists. These stylists are not only incredibly talented and have impeccable taste, as you will see in this blog series,but being a top pageant stylist requires a LOT MORE than just having great taste. First up is one of my all time favorites, Chris Adams of Henri's Cloud Nine.  I have worked with Chris for a few years and his ability to assemble a top notch pageant wardrobe is second to none.  Chris was gracious enough to sit down and let me pick his brain about how he became one of the top pageant stylists in the country.
Q: How did you become a pageant stylist and how long have you been one?
A: Honestly, I've been doing this for about 10 years now. Working with girls on styling has always been something I have loved doing. I've always had a love for pageantry since I was a little boy and I've watched "Miss Congeniality" more times than I care to admit. It all started when I was in high school and my friend decided she was going to compete in the Miss Georgia USA Pageant. We went shopping at the local dress boutique and together we found the perfect gown. Well, almost perfect, I of course had several changes I wanted to make to the gown to make it more special. To make a long story short, she went on to compete and placed in the top 15 her first time ever competing. And the styling just went on from there, I became more involved in pageants and styling girls in my home town.
Q: What is your favorite part about what you do?
A: My favorite part of doing this is seeing the final product walk across stage! It's not just picking out a gown and calling it a day. You have to make sure the gown is altered properly and that everything fits perfect. You have to make sure that the jewelry compliments the overall look. Hours and hours go into the perfect stage look, and when you see your girl walk across stage and everything looks exactly how you imagined it would, that's the best part!
Q: As a competitor myself, I tend to keep my wardrobe selections secret, in your experience, how important is confidentiality in your industry?
A: Confidentiality is key. I don't like for girls to even share the color of their gown, much less anything else. I have actually made girls delete pictures off their phones so they don't even have the temptation to share them! I think everything should be a secret until you walk across that stage!
Q: As a pageant stylist, how important is it to build relationships with designers?
A: It is very important! You need to be able to trust that each designer you work with will translate each idea the right and the most successful way! Luckily, I work with some very talented and amazing designers!
Q: How do you handle it when a client wants a gown that in your heart you know isn't flattering?
A: I am very honest in the way I style, If I truly feel like something isn't flattering I will speak up and express my concerns. I will encourage the client to continue trying on, and together we always find the gown of her dreams that also flatters her best features!
Q:  You always seem to know exactly what looks great on me, and what is right for each system, can you give a few tips to my readers when they begin their search for the perfect pageant wardrobe?
A: The most important thing is to stay true to yourself. Your stylist should be able to guide you into the right wardrobe for the system you are competing for and your age division.
Q: What is the biggest mistake you see pageant girls making when choosing wardrobe?
A: The biggest mistake is too many opinions, you come to work with your stylist for a reason, trust them, and don't let so many people get in your head.
Q: What made you choose Henri's Cloud 9 to hang your shingle?
A: From the moment I walked into Henri's, I knew it would be a great place for me to grow and truly do what I love! The store is absolutely gorgeous and the pageant department is full of exquisite gowns, jewelry, interview looks, swimsuits, and anything else you would need to compete, and to win! I also have the best support team that are always there for me! This past year has been full of so many amazing memories! I have seen an amazing Henri's girl crowned Miss USA, traveled all over the country to state and national pageants, and met some of the most incredible women!
Thanks so much Chris for taking the time to share your knowledge with my readers.  To contact Chris Adams, call Henri's Cloud Nine at 1-888-823-9880.
Chris working with some of his many pageant clients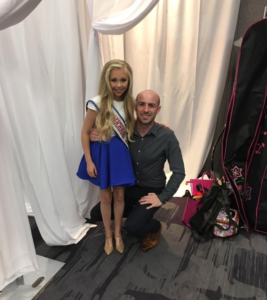 Thanks for reading and as always….
Keep Sparkling!
XOXO,
Harleigh
Harleigh Goodman

Source link