No confidence and no boyfriend. Is there a connection?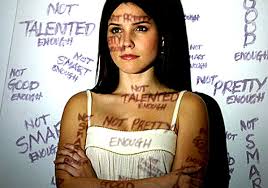 Must be spring because my teen email is all about crushes. Most from middle schoolers. I won't bore you my history, but…  occasionally I dream about my 7th grade crush. So believe me, I get romantic insanity. Either you're out-of-mind euphoric or in a hopeless funk. Sometimes feeling both within five minutes.
This 7th grader is crushing hard. Slight problem: the guy is dating her best friend.
Hey Terra,
My best friend's new boyfriend happens to be my childhood crush. He and I were very close throughout elementary school. We even liked each other in the third grade. So her being with him doesn't feel right to me. I should have been his first kiss and his first girlfriend. Last year, in 6th grade, I liked him a lot but I got over him. Then this year I found out him and my bff liked each other the whole time! Most of my friends have boyfriends. I should have one too! I am very insecure and I need a boyfriend to feel confident about myself. What do I do to feel confident? Please Help.
-Insecure Girl
Dear Insecure Girl,
You say you got over this guy and maybe you did. But emotional attachments are tricky and sometimes you believe you're "over it" then, suddenly, your ex is in your face and in your heart again. Seeing your crush with your bff isn't easy. It's also not easy to see a bunch of your other friends coupled up when you're not.
You can't control other people's feelings (obviously). But you can stop making things harder for yourself. For example, you've been thinking you need a boyfriend to be less insecure. That a boyfriend would solve all your self-confidence issues. That's just not true.
I understand you want a boy to like you the way your crush likes your bestie. That's fine. Everyone wants to be loved and admired. But when you try to convince yourself what happened in 3rd grade ought to put you first in line to be his girlfriend, that's wrong-thinking. You don't get to decide who becomes this guy's first kiss or girlfriend. That's his decision. You're a smart girl. You don't need me to tell you that.
You asked my advice. Here it is: Stop feeling sorry for yourself. It will only bring you down. So will all the "I need a boyfriend" thoughts. That's a form of self-bullying. Not helpful. Instead, focus on what you love to do and do more of it. Art, writing, sports, dance or music, theatre or science, photography, technology, entrepreneurship, cooking, or a zillion other things the world has to offer.
Focus on being the unique and awesome girl you already are. You have everything you need. Nothing is missing from this equation. No boyfriend required. Use your interests to guide you, create short-term and long goals and achieve them. That's what makes a person confident in herself.
I hope this helps.
In friendship,
Terra

Annie

Source link