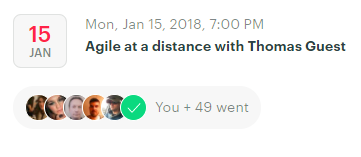 Monday's Agile Bath & Bristol meetup was a sell out. All 50 available spaces were taken. I myself was lucky to get a place — I was on the waiting list until a spot opened up at 3pm on the day. And I was the speaker!
The reality turned out to be different: of the 50 who'd claimed spaces, roughly one in four actually showed up.
I know, it was Blue Monday. I know, there are bugs going round — my daughter has been running a fever and didn't go in to college, and if I hadn't been presenting I myself would have cancelled to stay in with her. I know, your work day over-runs, you're hungry, something else comes up. I know, it's a free event, so it's not as though you've lost anything.
Despite all these things a 25% turnout reflects badly on us all. It's unfair on the sponsors and organisers, especially when refreshments are offered. It's impolite to those who turn up at the advertised time, and must then sit waiting in case more people who've said they're coming actually show up. It's tough on the speakers: planning a session for an audience of 50 is different to one you'd plan for 12.
I realise 25% is egregiously low, but — in my experience — 50% is far from unusual, and even considered acceptable. I think it's shabby. The one excuse noone has is forgetting the event is on — Meetup etc. integrate with your calendar and issue repeated reminders to attend and requests to cancel if you cannot.
So, my thanks to those who turned up and participated. I enjoyed it. Smaller numbers allowed for a more collaborative session. Ironically, topics discussed included punctuality, respect, commitment.
Please, don't sign up to a meetup you don't plan to attend. If you decide to cancel, release your place so someone else can have it. Otherwise, arrive on time.
[email protected] (Thomas Guest)

Source link