Jewellery trend: pearls – Christopher Evans Jewellers & Goldsmiths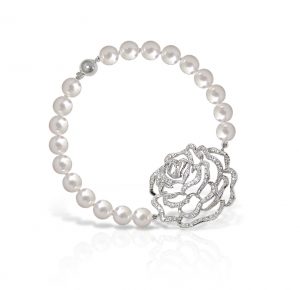 The jewellery trend that been a long time coming, in our opinion, is for the wearing of pearls.
Pearls have, finally, lost their association with grandmas and posh birds from Sloane Square and are gracing the necks, ears, fingers, shoulders and ankles of elegant women across the nation. It's possibly because the creamy iridescence of pearl will go with anything you are wearing, from black to white right through the rainbow, but also, we think, because they are just plain beautiful.
Today's trend for pearls has them in all styles, from the more delicate, traditional strings and drop earrings to fabulous baroque creations, meaning that you can satisfy your jewellery desire in any style you prefer.
But what is a pearl?
Today, there are two types of pearl.  Natural pearls and cultivated pearls.
The natural pearl is, like all those sparkling precious gems we so adore, a magical gift from Mother Nature.  Unlike gemstones however, these pretty things are created by living creatures.  Natural pearls are formed when a foreign body (smaller than a grain of sand) gets inside the shell of a seawater oyster or a freshwater mussel.  This irritant (which is often called the seed, or nucleus, of a natural pearl) is most probably a tiny bit of debris from the seabed that was drawn into the creature's shell as it fed, or even a parasite.  If this tiny irritant can't be flushed out by the mollusc, it will take steps to protect its soft internal tissues from potential harm by coating this invader in smooth nacre – the smooth, slightly iridescent stuff you will find inside oyster shells, which we also call Mother-of-Pearl.  Over time, the nacre forms multiple layers around the irritant, until eventually a pearl is formed.
It is this multiple layering that gives pearls their unique lustre, playing with the light to create a mesmerising beauty, shine and colour.
Left to nature, fewer than one in ten thousand oysters will contain a pearl created in this way.  The very few molluscs that can create a pearl (and of over 8,000 species, only 20 can) will only do so when an irritant triggers the response, and even then, very few of the pearls created are rarely large enough or the right colour for use in jewellery.  As a result, natural pearls are highly prized and very valuable – indeed, natural pearls are measured by carat weight, just like diamonds and other precious gems.
What are cultured pearls?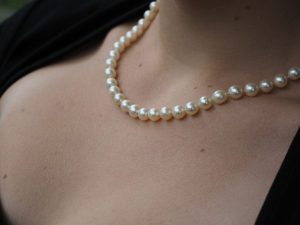 If not for man's ingenuity, pearls would still be objects owned by the very wealthiest of people.  Luckily for us, in the first years of the 20th century, three Japanese men set about developing processes for cultivating pearls in molluscs kept in farmed conditions.
Dr. Tokichi Nishikawa (1874-1909),; Tatsuhei Mise (1880-1924), a carpenter with no scientific background and Kokichi Mikimoto (1858-1954), a vegetable vendor-turned-pearl-farmer.
In 1902, Tatsuhei Mise implanted 15,000 molluscs with lead and silver nuclei and, two years later, harvested small, round cultured pearls.  Around the same time, Dr. Nishikawa, a marine biologist, began seeding oysters using tiny gold and silver nuclei. His process also yielded small round cultured pearls. As the two processes were nearly identical, it became known as the Mise-Nishikawa method.  During this same time, Kokichi Mikimoto, who till now had been a vegetable merchant, was also conducting pearl seeding experiments, and found that tiny pieces of nacre worked best for him.  In 1916, he adopted the Mise-Nishikawa method of seeding and the predecessors of today's round cultured pearls were born, appearing on the market for the first time in 1921. Mikimoto, with his background in trade, led the field in the production and marketing of cultured pearls and the brand is still going strong, with annual sales of over £300,000,000.
Black pearls
'Black' pearls, often called Tahitian pearls, were introduced in the mid-1970s.  These are actually a range of shades in dark grey, brown or black with overtones that can be pink, purple, green, or blue.  These pearls form naturally in these colours, and cannot be produced in such abundance as white pearls.
Baroque pearls
The word baroque refers to the shape of the pearl, rather than it's colour or place of origin.  Quite common among cultured freshwater pearls, baroque pearls are those that develop in an irregular, lumpy, or non-spherical shape.  For a long time these were rejected in favour of the spherical pearls, but in recent years their beauty has become recognised, resulting in some stunning jewellery designs.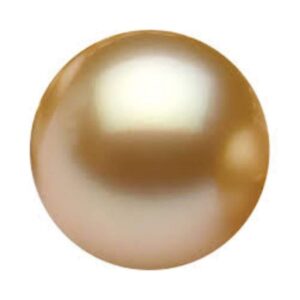 South Sea pearls
South Sea pearls are the most valuable of all cultured pearls, because of their rarity and large size. They fall into two categories, based on their colour and origin: golden South Sea pearls and white South Sea pearls. Golden south sea pearls originate in the Philippines, Indonesia, and Australia; their golden tone gives them their name. White south sea pearls can be found in Australia in shades of white or silver. All South Sea pearls are known for their satin-like lustre, and rainbow iridescence.
Birthstone for June
The pearl is one of three birthstones for June, along with moonstone and alexandrite.  It is also the celebratory gift for the 30th wedding anniversary.
Pearls as a gift
For centuries, pearls have been associated with innocence, modesty and purity.  Elizabeth I decked herself out in strings of them, as befitted the Virgin Queen.  Up until very recently, a string of pearls was seen as the perfect gift for a teenage girl entering society, and have been popular gifts for new brides across many cultures.
Famous pearls
One of the most famous natural pearls of all time is La Peregrina, which was found in the 1500s in the Gulf of Panama.  This pear-shaped pearl weighs in at 50.56 carats, (about half the size of a medium hen's egg) and became a prized possession of European royalty.  It was bought by Richard Burton in 1969, when it came up for auction in London, and he – of course – gave it to his wife, Elizabeth Taylor, as a Valentine's Gift. She commissioned Cartier to create her a necklace in which to showcase her grand pearl, with rubies and diamonds and yet more pearls. In 2011, following her death, the Cartier necklace containing La Peregrina was auctioned in New York for $11.8 million.
Make pearls a staple of your wardrobe, why don't you – the fact that they're bang on trend is almost irrelevant – they're  simply beautiful things.
Lauricorn
Source link