Hello Healthy Eating – Keepin' It Fresh with Chilean Grapes!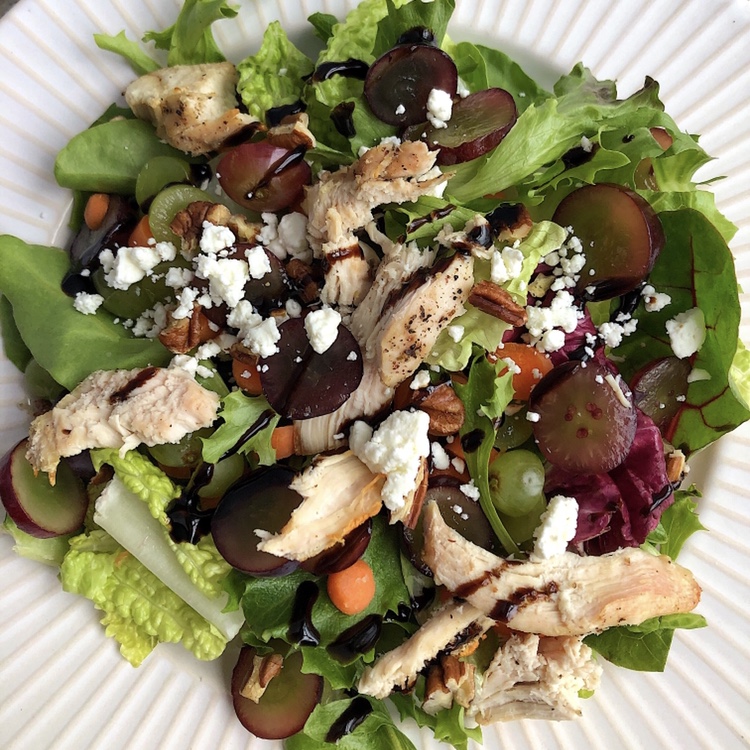 Who doesn't LOVE fresh fruit? How can anyone resist nature's candy? Fruit is naturally sweet, loaded with fiber and packed with nutrition… what's not to love?! Lately, I've been obsessed with grapes. They're the perfect little 'pop' of tart, juicy sweetness, perfectly packaged in a cute little bite-sized pretty purple or glossy green wrapper! Plus, there are so many fun ways to enjoy them! Today I've teamed up with Fruits from Chile to share a post about the health benefits and versatility of grapes!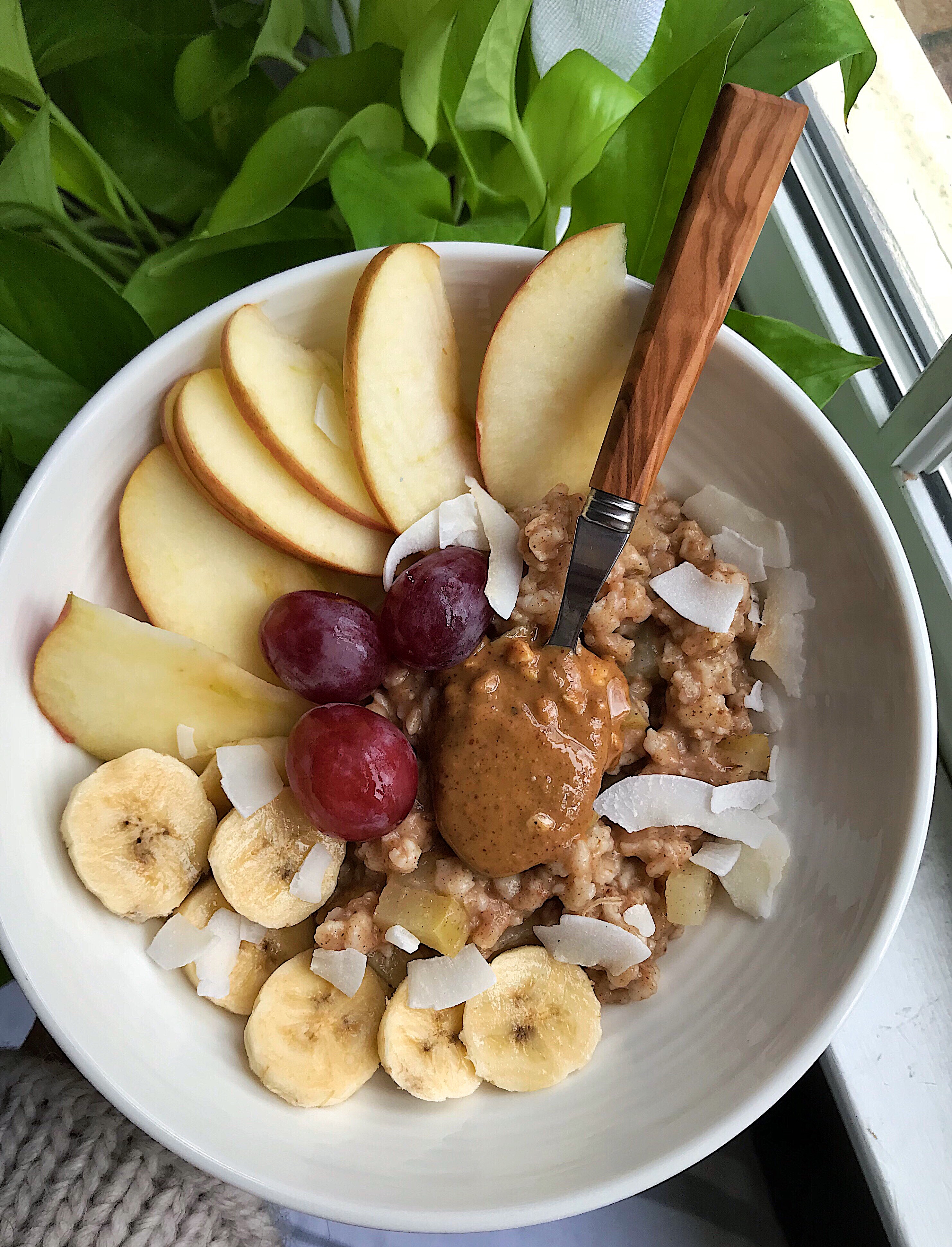 In ¾ cup of grapes there are only 90 calories… but don't let this low calorie snack fool you. They're small but mighty! Grapes are loaded with B vitamins, vitamin K, copper and polyphenols (which help keep your cells healthy). Regularly eating grapes has also been linked to eye health because they help protect your retina. Even the grape skins themselves, are a rich source of antioxidants. Talk about a superfood! And because Chile is in South America which is 'counter-seasonal' to North America, this is the perfect season for grapes!
If you want even information about grapes, you can find it here: https://fruitsfromchile.com/fruit/table-grapes/
And while I'm all about health benefits (I mean, hello healthy eating!) I'm also all about flavor. In addition to all the amazing health benefits, grapes are incredibly versatile and they add tons of natural sweetness to a variety of tasty meals. Here are just a few of my favorite ways to enjoy them: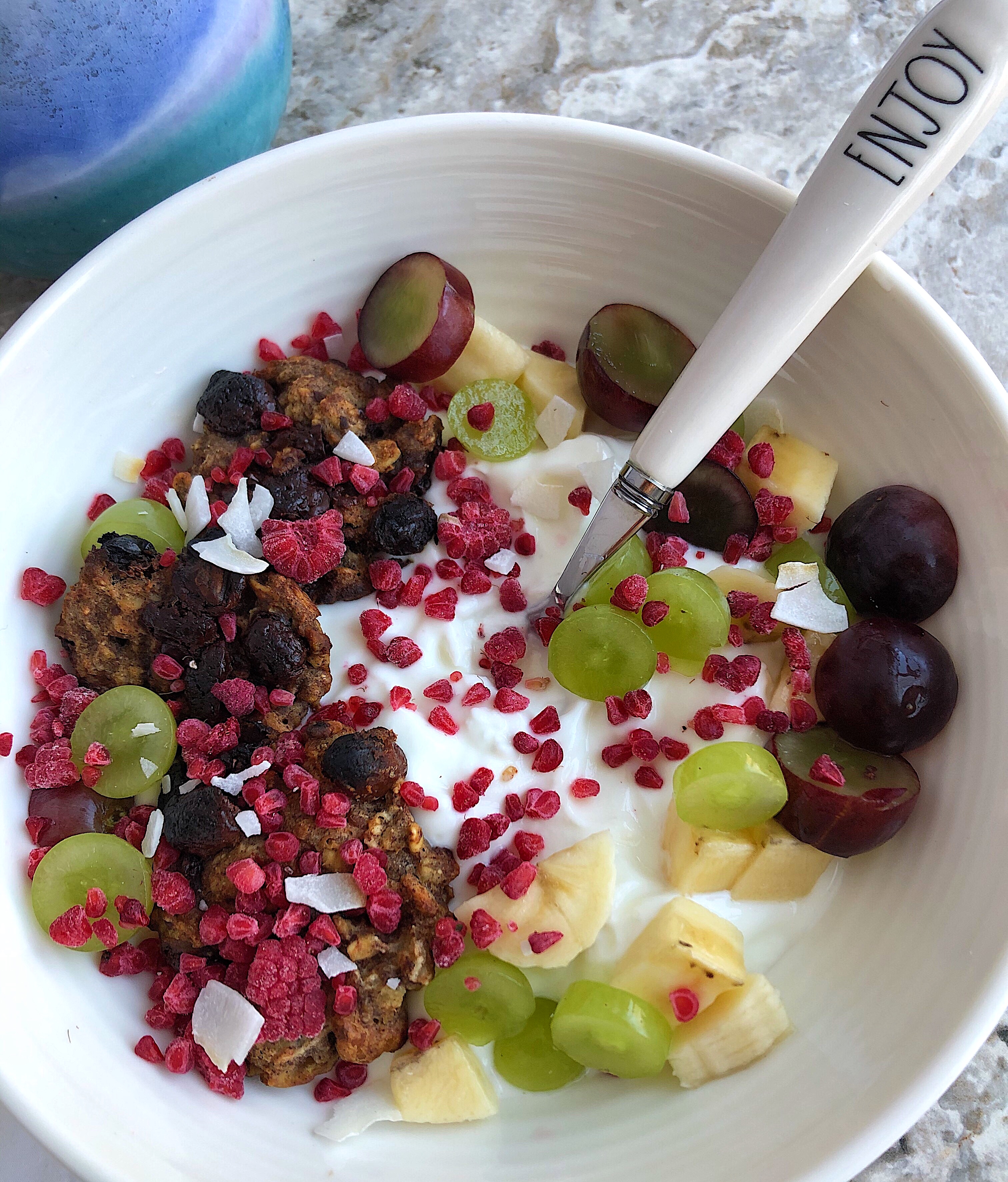 Mixed into a yogurt bowl– I eat a yogurt bowl almost everyday and I've grown to love the combo of tart plain Greek yogurt mixed with sweet, juicy grapes. They add a nice little pop and a unique texture when hidden in each spoonful of my smooth yogurt. The mixture is so satisfying and delicious.
On a fresh fruit salad– Maybe yogurt isn't your thing or you're dairy free (I was for 3 years). Well, grapes from Chile are absolutely necessary on top of a fresh fruit salad. Add your strawberries, pineapple, blueberries, and banana, but never forget the grapes! I've always loved chopping them into little pieces so you can spread the sweet flavor throughout the whole bowl. 
In cereal– I don't often eat cold cereal, but when I do, I go ALL out. I add a ton of fruit and sometimes a sprinkle of toasted nuts or a spoonful of peanut butter for some healthy fat. My absolute favorite fruits to mix into my gluten free cereal bowl are grapes and bananas. Ever since I was little, I remember my mom craving cereal for supper on Sunday nights. She always added grapes and bananas…and she still does! So nostalgic and seriously tasty!
In a spring salad– Grapes aren't just good on fruit salads, they're also delicious on spring mix salads! This is one of my favorite salad combos. I simply start with greens, add some carrots for a bit of crunch and organic chicken for extra protein. Then I add some goat cheese, toasted pecans, and some plump, fresh grapes from Chile! I top my creation with a drizzle of balsamic glaze and voila! A sweet and savory salad that's perfect for spring 🙂 
Frozen– When I was in high school, my senior project involved teaching nutrition lessons to elementary students. I taught them about the many benefits of fruits and vegetables and I brought in yummy snacks to show them how tasty 'eating healthy' can be. Their favorite nutritious treat was Frozen Grapes! They thought they tasted like popsicles or sorbet. The magic is that they have just a fraction of the calories! YUM 🙂 I still love frozen grapes. (If you haven't tried them, you must!)
With pretzels and cheese for a simple snack– Growing up, I LOVED nibbling on pretzels, cheese and grapes for a mid morning (and/or after school) snack. It's the perfect combo of salty, sweet and savory. These days I opt for gluten free pretzels, but it's still such an ideal easy snack combo. Do try!!
These are just a few of the many ways to enjoy grapes! So, while they may be delicious eaten straight out of the bag (after you wash them with cool water, of course), the combinations and possibilities are endless! What are some of your favorite ways to enjoy grapes?!
This post is in collaboration with the Chilean Fresh Fruit Association which manages the marketing of all the fresh fruit imported to North America from Chile. Chile exports more than 2.6 million tons of fruit annually to over 100 countries!! 
Cailee

Source link