A hinged ring for swollen knuckles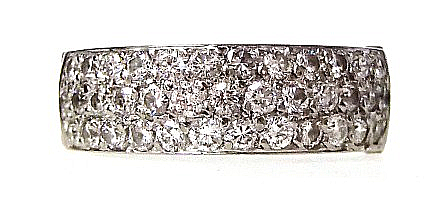 Who would have thought that designing a hinged ring for swollen knuckles could be so satisfying?
Not so long ago, a lovely lady came to see us with her jewellery collection.  This happens quite often, when people realise that they have pieces they never wear, but are too good to get rid of.  We take what they have and design new pieces that they can wear and will treasure every day.  This particular lady, though, brought us her wedding and engagement rings, which she desperately wanted to wear, but was unable to as age and arthritis had resulted in swollen finger joints, so she simple couldn't get them on and off any more.  She came in to ask about converting them to a brooch.
We thought this was too sad, so Christopher set about devising a way to design a ring that incorporated her diamonds but would fit her finger, without having to be pushed over her sore knuckles.  His solution – a hinged ring.
How does the hinged ring work?
It works very simply.  Christopher designed a ring where he could fit a small hinge, that opened just sufficiently to allow the ring to slide over the knuckles, and when closed was a comfortable fit on the finger.  The ring is pave set with the client's own diamonds (and a few extras too, because why not?) and is designed to be easily wearable, on good days and bad,
Christopher loves a challenge like this, so it came as no surprise to us that the resulting piece was both beautiful and functional.  And our customer?  She is over the moon!
Call in and see what we can do with your unworn pieces – you may be surprised, you will definitely be delighted.
Lauricorn

Source link